Whether you're a professional dancer, DANCE teacher, or a student, we have music for everyone.
This website is loaded with beautiful piano music for BALLET - almost 200 selections of my original compositions & pop covers which are all exquisitely recorded on an acoustic grand piano in a professional recording studio.
Thanks for checking out the site & have fun finding the perfect selections to suit your needs!
Gill Civil 
Click on the link to listen to this recent podcast featuring Gill Civil by "BALLET PIANO PODCAST" - A podcast created by accompanists at the English National Ballet
"This week's episode is with dance accompanist, Gill Civil.  Her life and career is so off the wall and varied, and in this episode we get to learn all about her work in dance, as we put the spotlight on her. 
From New Zealand originally, she has worked and lived in Australia, the USA and Canada, starting off her career in a punk rock band, working with Crowded House and Limbs Dance company, and playing for ballet classes throughout Australia, the USA, and Canada. 
She is also a composer of her own music for ballet and contemporary, which is produced by her husband, Edwin. 
This episode will not fail to entertain you with fabulous story after fabulous story about her life and career, which it seems is completely in the hands of fate and coincidence.  So many glorious happenings, you won't fail to love it."
https://www.balletpianopodcast.com/episode-49-in-conversation-with-gill-civil/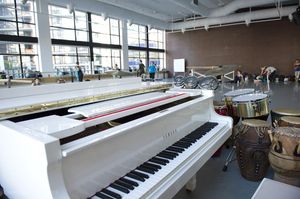 Bio
                         

Gill Civil
A New Zealand composer now based in Vancouver, BC, Canada, has long been inspiring professional dancers and ballet students alike with her energy infused piano music. 
She has worked for major dance companies in Australasia and Canada and during the 80s was a full-time accompanist at the prestigious Victorian College of the Arts in Melbourne, Australia.  
Before moving to Canada in 1990 Gill recorded and toured with several bands, including the renowned pop band Crowded House - she played keyboards on their 1986 Australian tour.  
A classically trained pianist, Gill is a prolific composer of solo piano music. Her "Dancing Keys 1,2 & 3" CDs have found an international audience with ballet and modern dancers as well as fans of New Age music.  
In July 2016 Gill was invited to play at the International Dance Seminar in Brasilia. She entertained the young Brazilian dancers with music from her latest releases "BPM – Ballet Pop Music 1,2 & 3" which feature covers of current pop songs and movie soundtracks.  
Gill accompanies ballet classes for Arts Umbrella, Simon Fraser University and Lamondance.